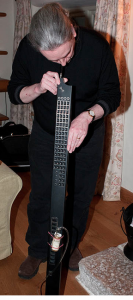 One of the highlights of the Eigenharp Developers Conference was the creation of the first Eigenharp Tau Whisky Dispenser Prototype.
John Nolan remember is was discussed on the forums and with the help of John Lambert and some tidbits from the Eigenlabs factory, they were able to create the first working prototype.
All details can be found on John Nolan's blog.