Mike Milton changed stands for his Eigenharp after seeing the one Tenebrous is using.
Here they are side by side: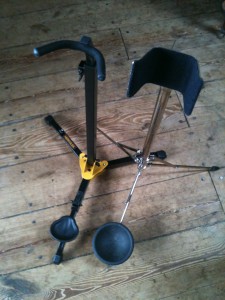 The one on the right is the one made by K&M that Eigenlabs provides as an option. It is very sturdy and, as a result, quite heavy. The upper support is large and has a flat surface that is as wide as the back of the instrument (a good thing). However, if it is at the wrong angle, it is possible to have the metal touch the instrument.
The one on the left is by Hercules and it is much lighter (and less robust), the upper support is more rounded (but completely covered in padding).
For Mike, the deciding factors were that the hercules stand folds up *much* smaller, it (optionally) comes with a carrying bag, and it fits into smaller spaces because the legs are lower when unfolded.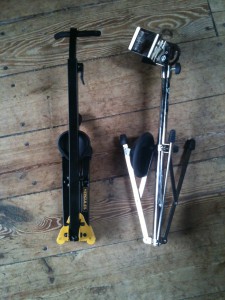 Buying advice: If you want the best stand for a fixed location, the K&M stand is probably the stand for you. For going out to gigs, or in small spaces, the Hercules stand is great.
Thanks a lot for the permission to post your entry on EigenZone, Mike.
Check out his blog at http://eigenharps.blogspot.com